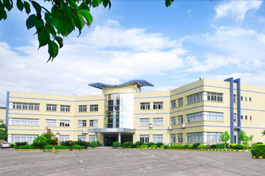 Founded in 1998, Zhuhai Dinghui Printing Co., Ltd. is a professional management company to produce and provide colorful printing package , printing label, precision die-cutting parts from design, manufacturing to aftersales services.
In order to serve customers better to best, we set up an office in CA, the United States to provide customers with design services. We have several factory facilities to support customers either in Nanning, Suzhou China or in Vietnam to better serve customers' local delivery.
The company headquarter is located in the beautiful industry park, Doumen Xinqing Science and Technology Park, Zhuhai City. We own the self-built 5workshops in 40,000 square meters' land, some are clean workshop, dust-free workshops. The company is very beautiful in such many green trees environment.
The company constantly bought Heidelberg, Germany, Japan komori, highly precise packaging and printing equipment, automatic production machines, from CTP and publishing, printing, surface treatment, lamination, hot stamping, die-cutting to automatic gluing, folding, saddle-stitching, perfect binding. So as to ensure customer delivery, we keep quick response to customer and have large capacity to build quantities of packaging in production.
The company has continuously bought many sets of multiple color trademark printing presses, which includes semi-rotary and nine-color printing machines. We make all processes in house by advanced equipment and accumulate years of technology in printing industry and have enough production capacity andare able to provide global delivery services.
The company constantly bought many electronic accessories precision die-cutting equipment, containing more than rotary machine, wire machine and some special equipment, meanwhile, we develop some new professional material for all kinds of electronic products in the area of precision die cutting, shockproof, shielding, conductive, thermal conductivity, protective and other different performance requirements of die cutting products.
In order to provide customers with excellent quality and service, the company has obtained ISO9001, ISO 14001 certification and FSC certification as well. The company absorbs the excellent management experiences and technology from domestic and foreign counterparts. Our production system has been fully implemented ERP system management, which provides a strong guarantee to meet customers' demands for fast delivery of various businesses.
We persist in the policy of "excellent quality, reasonable price and fast service". We have successfully developed the market of many professional printing fields such as electronics, electrical appliances, cosmetics and food, also established good relationship and Vender Code with many famous brand customers.
Website: www.dh-printing.com
Core management idea
  Enterprise vision
As the printing industry leader
  Core values
  Happiness and true success
  Tolerance and harmony create prosperity
  Staff belief
  I rely on the survival of enterprises, enterprises rely on me to develop
  I am proud of the top, and the top of the brilliant because of me
  Enterprise mission
  Provide the stage for the employees, create value for customers, contribute to the society
   Management idea
  To the quality of survival, reputation and development,
  Market oriented, with the strength of the future.
   Corporate purpose
  Customer first, excellent quality, timely delivery, sincere letter to.
  People-oriented, excellence, energy saving, environmental protection.